Previous Page
Omni Theater, an IMAX Dome - Ft Worth Museum of Sc
1600 Gendy Street, Fort Worth, TX 76107
Movieline: 1-(817)-255-9300
Website: http://www.fortworthmuseum.org/omni.html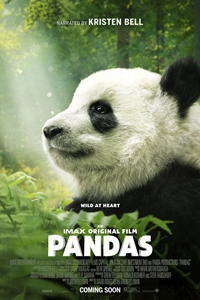 Pandas: The IMAX 2D Experience (G)
Cast: Kristen Bell
Runtime: 40 mins.

Pandas are beloved around the world, and now they are coming to the big screen in the IMAX® original film "Pandas," a breathtaking documentary adventure and amazing experience for the whole family. At Chengdu Panda Base in China, scientists are dedicated to protecting the species by breeding adult Giant Pandas in order to introduce cubs into the wild. This film follows one such researcher, whose passion leads her to initiate a new technique inspired by a black bear program in rural New Hampshire. What starts as a cross-culture collaboration becomes a life-changing journey for an American biologist who crosses an ocean to join her; a scientist from Inner Mongolia; and a very curious female cub named Qian Qian, born in captivity. Captured with IMAX® Cameras, join Qian Qian on an exciting new adventure in the mountains of Sichuan as she takes her first steps outside her protected habitat, discovering her true animal nature... even as she faces the challenges of the unknown.
10:30 AM
,
1:35 PM
,
4:50 PM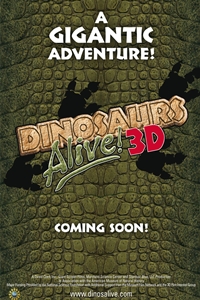 Dinosaurs Alive! (NR)
Cast: Michael Douglas, Roy Chapman Andrews
Runtime: 40 mins.

"Dinosaurs Alive" is a global adventure of science and discovery--featuring the earliest dinosaurs of the Triassic Period to the monsters of the Cretaceous "reincarnated" life-sized for the giant IMAX ® screen. Audiences will journey with some of the world's preeminent paleontologists as they uncover evidence that the descendents of dinosaurs still walk (or fly) among us. From the exotic, trackless expanses and sand dunes of Mongolia's Gobi Desert to the dramatic sandstone buttes of New Mexico, the film will follow American Museum of Natural History paleontologists as they explore some of the greatest dinosaur finds in history. Through the magic of scientifically accurate computer-generated animation, these newly discovered creatures, and some familiar favorites, will come alive... in a big way!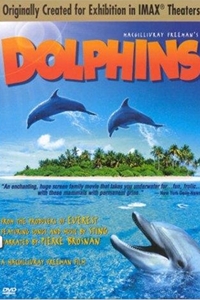 Dolphins (Giant Screen Format) (NR)
Cast: Pierce Brosnan, Kathleen Dudzinski
Runtime: 39 mins.

Dive with scientists off of the Bahamas and the wind-swept seas of Patagonia, as they discover the mysteries of these elusive and majestic and wild creatures.