Previous Page
Walnut Theaters $5/$3
3310 West Walnut Street, Garland, TX 75042
Movieline: 1-(972)-444-3456
Website: http://www.hollywood.com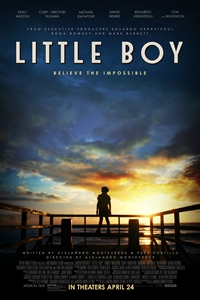 Little Boy (PG-13)
Cast: Jakob Salvati, Emily Watson
Runtime: 1 hr. 46 mins.

Is the inspirational story of a 7-year old boy who is willing to do whatever it takes to end World War II so he can bring his father home. The story reveals the indescribable love a father has for his little boy and the love a son has for his father.
5:00 PM
,
7:00 PM
,
9:00 PM